Inner City Press/Community on the Move, and the Inner City Public Interest Law Center are engaged in cutting-edge investigative reporting, fair lending, development and government accountability advocacy. Our work is controversial to some, including, it seems, most foundations. We have neither applied for, nor received, government funding. Our struggles are often with government agencies, for lack of enforcement of the Community Reinvestment Act, environmental and other laws, and lack of compliance with the open government laws. More recently our coverage of the United Nations has raised other issues. Leaks and tips can be and are sent to us in full anonymity. We decided, early on, that only by remaining independent could we take on the right fights, and achieve the results we have. Much of our support comes from individuals.
You can contribute to Inner City Press/Community on the Move, Inc. in several ways (it is a private, nonprofit charity, under Section 501(c)(3) of the Internal Revenue Code, and donations are deductible from federal taxes). Perhaps the easist is PayPay:


Or please send checks to
Inner City Press
P.O. Box 580188, Mount Carmel Station,
Bronx, NY 10458, USA
(Make checks payable to Inner City Press / Community on the Move, Inc.).
Given the nature of our work, we have in the past also accepted (and use) donated computers, office machines, books, and other assets. Wills and bequests can provide significant long-term support for Inner City Press/Community on the Move's and Fair Finance Watch's work.
For more information about giving, our web site or any other matter, call us at (718) 716-3540, or e-mail us at Editorial [at] innercitypress.com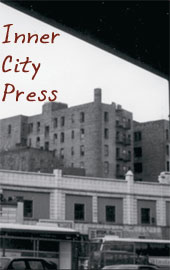 ---
How to Contact Us Site Map Search This Site Inner City Press' Community Reinvestment Reporter Global Inner Cities Citigroup Watch Inner City Reporter

Bank Beat Inner City Poetry Community Reinvestment

Environmental Justice

Insurance Redlining

In the Bronx

FCC/Telecommunications

About Inner City Press

Inner City Arts&Culture

Inner City Housing

ICP's Freedom of Information Guide

Links/Resources

Frequently Asked Questions


The Inner City Reporter's Federal Reserve Beat

Privacy Policy

What's New on Site Archives For the Media

Inner City Public Interest Law Center

What's New on Site
---
Copyright 1999 - 2003 Inner City Press/Community on the Move, Inc.. All rights reserved. For further information, or to request reprint or other permission, contact: Permissions Coordinator, Legal Administration, Inner City Press, P.O. Box 580188, Mount Carmel Station, Bronx, NY 10458. Phone: (718) 716-3540. Fax: (718) 716-3161. E-mail: WebStaff [at] innercitypress.org